vRoot
1.7.4
Rooting of Android Devices Made Simple
vRoot is a useful app that enables you to root your android device and help you in gaining administrative control of it and making changes to its system's settings. If you want to gain root access to your android powered handset then this rooting app is just what you need. It allows you the opportunity to take control of your android device and add all your favorite applications into it that were impossible to download before. Unlike other rooting apps that are difficult to operate and understand, vRoot is extremely easy to use and has a very intuitive user interface as well. In addition to this, this app has a one-click rooting process which makes it easier for even novices to use it for rooting their android handset.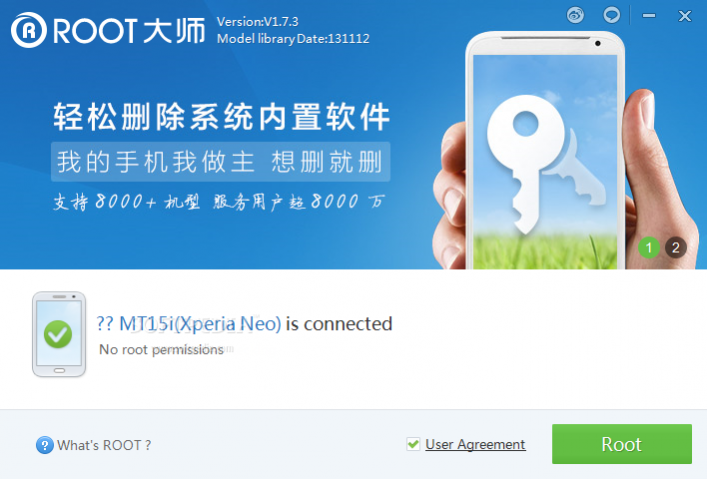 With vRoot, you can gain root access to any android phone with consummate ease. All you need to do is to plug in your phone to your computer or laptop after launching the app and allow it to be recognized automatically by it. Once the phone has been recognized, the only thing left to do is to press the Root button. This will provide you full administrative control of your handset. The app is going to notify whether or not your phone has root permissions after the pressing of the Root button.
After you have successfully gained root access to your Android handset, you can easily add apps that you weren't able to before. Many of the apps that you can't download on an Android phone because of the system restrictions will become unrestricted once root permissions have been granted to you for your device. In addition to this, rooting your device will enable you to become the administrator of your device and make changes to the system settings of your phone without encountering any difficulties. However, beware that changing the system settings can make permanent changes to your phone. So, only make those changes if you know what you are doing.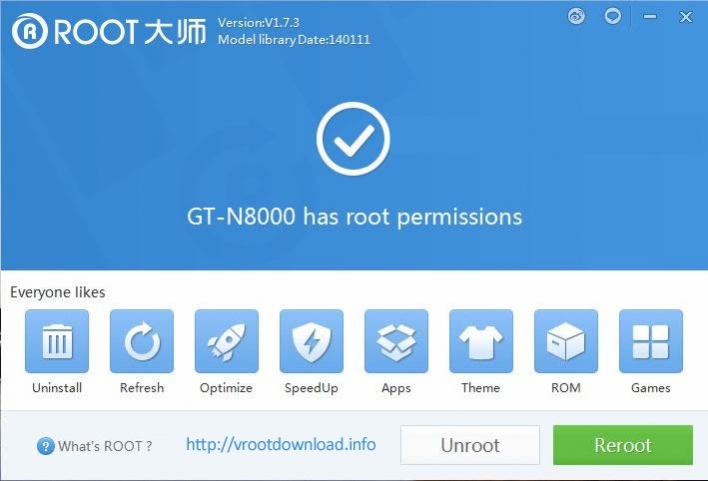 Aside from root access to your device, this rooting app offers a number of other options to you as well. Some of the options that you will find when using this app include Optimize, Speed Up, Apps, Theme, ROM and Games. You can use these options to further enhance the performance of your handset and add new apps and games to it.
vRoot is essentially in the Chinese language. This is one of the biggest issues with this rooting app. There is no support available for other languages and you will need Google Translate for translating some of its words into English or any language of your choice. However, even with the translated words, it would be extremely difficult for you to understand what is written, making it hard for you to use the app correctly. So, unless you are a Chinese speaker or know the language very well, it would be best for you to steer clear of this app or you might end up doing serious damage to your android phone.
Features:
Intuitive user interface
Easy-to-use controls
Simple rooting process
Gain administrative control of your android device in one click
Add applications and make system changes
Conclusion:
vRoot is a nice app that is ideal for people who are looking to take administrative control of their android handset and download apps that were previously impossible to download on it. It lets them root their device in a simple and easy manner. However, this app is in Chinese and does not offer support for other languages. Thus, it might not be a good fit for people who do not know Chinese that well.
RELATED PROGRAMS
Our Recommendations
---
---
---
---